Scorching II Technical Conference 2019
Scorching group brings together more than one hundred restaurants in the II Technical Conference 2019 held in Córdoba, and in which the formation and the kitchen were the stars.
The day began with a welcome and breakfast for attendees, before beginning training day, and the stage were chosen facilities CZECH (Confederation of Employers of Córdoba).

The first presentation was given by Eva Ballarín international speaker Horeca sector, and director of HIP, with his paper AGAINST (Moment Of Truth). With three strategic points of Marketing for restaurants:
Living Marketing: The sweet story of Rosa, pastry
Charter Marketing: 109 second chance
Marketing Team: Example Paco, the seller waiter
Then we had the presentation of Diego Coquillat, one of the highest regard internationally Digital Marketing for restaurants. He told us where the most relevant data for decades so far of digital development at restaurants, and where we provided an analysis of how the group gets thousands of reservations Scorching restaurants through its digital platforms… 'Scorching at the forefront of digital'


The last presentation gave our chef advisor Carlos Torres. A paper made from the heart, on 'How to Cook Your Interior'. Giving all attendees the recipe for happiness and ingredients needed to cook.
After a break in which attendees could enjoy our corner of Iberian ham hand cut, and drink wine 86400 or one Captain craft beer, We had a round table spoke of the need for a solid foundation legs in a restaurant: Management, Heart and Technology. And finally the veterinarian and rancher family, He spoke of the major challenges for livestock and the keys to a good care of the planet by farmers. He also spoke ember system approved by the group Scorching restaurants eco-grilled coconut shell charcoal, to avoid the need to cut down trees and thus contribute to the sustainability of the planet.
And at the end, It took place Scorching recognitions Awards and delivery of a certificate of attendance for all restaurants present.
The day passed later in the Restaurant Celia Jimenez, where cordobesa chef prepared as host for all attendees two exquisite caps: "Melon with Iberian ham secret" Y "Spicy beef stew with pineapple, mango and orange ". With three other caps prepared by chefs in restaurants associated group Abrasador:
• Mariola Hervas of Scorching restaurant El Raco de Mama Lola Elche, with the cap "Cochinita Pibil Ibérica".
• Pepa Canovas del Restaurant Scorching Canovas of Murcia, a cap "Ferrero Rocher Trampantojo own parenting"
• And finally Mamen Gálvez Restaurant Scorching cinnamon and lemon Consuegra (Toledo) a cap "Lardones Iberian, foie and apple in three textures ".
And as, the food could not end otherwise…With tasting 4 Anoja cuts of beef and Iberian pork made in the corner of the Scorching grilled group.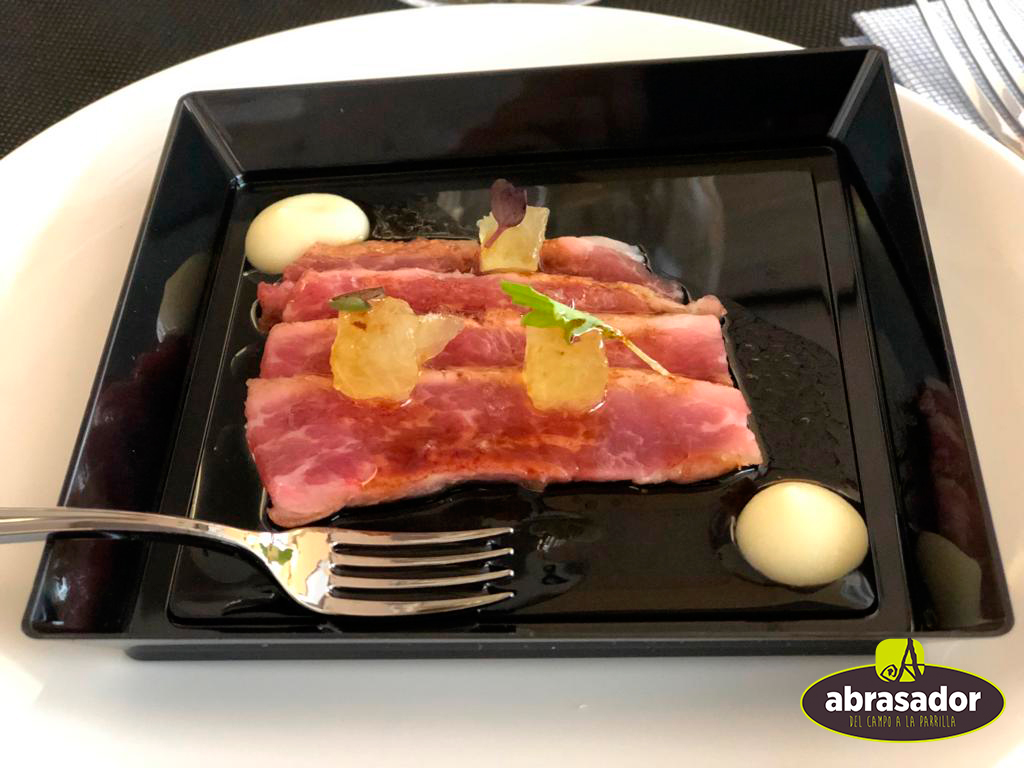 We thank all attendees participating in this II Technical Conference Abrasador 2019. We leave you with a video that summarizes what lived in this day….
https://abrasador.com/wp-content/uploads/2019/06/2-jornadas-tecnicas-abrasador-2019DSC_5048.jpg
2292
4000
Ivan Sanchez
https://abrasador.com/wp-content/uploads/2017/12/logoENFOLD_V2-300x100.jpg
Ivan Sanchez
2019-06-18 19:26:50
2019-06-24 17:14:45
Scorching II Technical Conference 2019