The Scorching restaurants use eco coconut shell charcoal.
A draft sustainable restaurants to look over our planet
in Scorching we care the most of the environment, we know that a planet sustainable can get a better quality of life.
Love for the field causes we care every detail that directly or indirectly affect natural resources, For this reason today we come to speak of ecological coconut charcoal ago we met 15 years.
Being a project meats Grilled our farmer and rancher of the Scorching Family Julio Ramirez (father) and he warned his children that the oak is a natural product very valuable and your pruning can draw some wood but looked like something sustainable for the field that coal companies do all the coal Holm oak. Besides it was a very dirty product to manage our stores and our kitchens.
And as if by magic, He appeared this coconut shell charcoal in the hands of Julio Ramirez (son) He presented to its members and sisters M Carmen y Esperanza and did not hesitate to launch in the kitchens of restaurants own Abrasador. Later they would show and transmit the benefits to all partners and gradually restaurants all have been adding this product in your cooking system.
The Most will wonder how this coal, What advantages does it have, or simply, Why change, If we are accustomed to Normal coal, which it has been used throughout life. As well, change people and professional cooks and chefs who use this system ember, is very large. By not releasing soot and dirt it is much healthier for the cooking with this grill and helps maintain hygiene and cleanliness of the kitchen better.
Legacy and mission of Scorching Group is to improve the supply of people with the best quality meats own upbringing through the hotel so it is very important to us that everything goes according to improve the quality of life of customers and fellow of the restaurants that join this project.
Y Now let's focus on the advantages of this charcoal and this Brasa:
The more accurate definition we can give is that it is a type of carbon, ecological, made with coconut shell, which should not be confused with charcoal comes from firewood from trees. This coal it We obtain from coconut shell, instead of discarding, It is reused For this end, which makes it a material 100% natural and ecological.
If we focus on its advantages, we find a huge improvement in the normal coal:
Avoid cutting trees to make charcoal vegetable.
It has a high calorific power, making with less product heat get more space than we It allows heating ordinary carbon.
The heat is distributed equally, since this charcoal lights so uniform and at the same time, which makes the heat is well distributed.
He lights 7 minutes and therefore it is agile and quick and effective.
One of the most significant is the lack of smoke, this coal reduces the emission of fumes and odors considerably, which makes cooking with it much more comfortable and healthier.
Do not you has passed, when some wind rises, moves the ash caused by the coal and fills the meat residue? Coconut coal also puts you solution to this, reducing, almost to a minimum, ash caused by its combustion.
You can forget The sparks, is just light a barbecue and sparks fly them to us cause a burn.
Avoids the risk of fire it does not produce flames. The flames produced is due to fat that may fall from the grill but that mitigated using coal to furnaces closed to control the flames with shots by the absence of oxygen.
The most important, ECOLOGICAL, It is all natural, As we said before, with the advantages would find why everything was so related, Y is that, thanks to being a very sustainable product, does it reduce the pollution.
in Scorching care to detail, so we use sustainable materials or a very low pollution, we know that in a healthy world and care, the quality products will be better, which will make the quality of life people also is.
We love our environment! Become Abrasador
The chef of restaurant partners say
We started with charcoal and now we are with this type of coal organic coconut and the truth that the difference was noticeable, not only for cleaning and work with carbon, but also for performance, although at first seems a bit expensive but when you realize that it is profitable notes, recommendable 100%.
It's just a matter of starting, when you do not want to change the typical traditional charcoal, summarize gain in functionality, costs, versatility, cleaning, stress in service and endless improvements. Do not limit, Test it! And then you reflect and decide.
The choice of coconut shell charcoal is an option more than successful, because besides easy storage and on is a great product because it has a high calorific power, It does not generate smoke and also is environmentally friendly, which makes the meat gets cooking and texture unmatched.
Outlasts charcoal, does not create flames, virtually smokeless, few ashes, neutral taste and smell, low consumption for long service life, environmental Protection.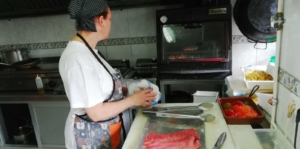 A wonderful option for cooking with perfect grilled intensity and a peculiar smell for our grilled meat.
In the environment customers have congratulated us over the years, because since we do grilled with this charcoal, hardly clear odors and does not smoke as did the oak charcoal we used before. And finally my point of view, It brings a special flavor to meats enhancing its natural flavor being made grilled .
The guys on the team are delighted kitchen for when we have quiet times and do not know if there will be reservations with grilled meats, They can light the charcoal coconut directly when requesting a barbecue dish or other grilled and 7 minutes, while preparing the drink and a recess, you are ready to make grilled meat.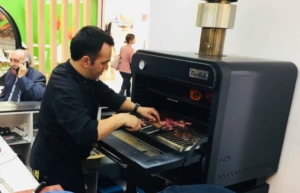 Only the knowledge we do not need cutting down trees to make an exceptional grilled love. With this I think we have taken a very important step forward. And on top is coal that provides better tasting and more calorific than coal furnaces our control we can not spend excessive heat in our kitchens.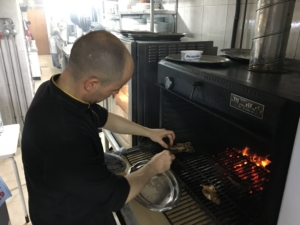 It is a very durable coal combustion over other. Why pays off, besides that with meat it works well because it gives no odor or taste to meats and acquires a good flameless.
I like to cook with charcoal grilled ecological because it does not smoke, Do not Mess kitchen, is environmentally friendly and easy storage. They are all advantages.
Also note that the pieces to make this coconut charcoal has much calorific sealed before and a part that takes 12 minute open grill in our system of closed furnaces with this coal takes 4 minutes made.
I love preparing grilled and last us more than two hours each charging hard and very powerful calorific. And especially to do service in the middle of another half load if I need it and add all the glowing embers without you come down the oven grill.
https://abrasador.com/wp-content/uploads/2019/07/brasa.jpeg
1568
3255
Burning
https://abrasador.com/wp-content/uploads/2017/12/logoENFOLD_V2-300x100.jpg
Burning
2019-07-12 11:08:56
2019-08-21 08:55:47
The Scorching restaurants use eco coconut shell charcoal.