"Si no hay una buena política de calidad, no hay recorrido y el fracaso está asegurado"

Javier Donaire, Scorching El Mirador de la Mancha
Hablamos con Javier Donaire, chef del Restaurante Abrasador El Mirador de la Mancha, situado en Villarubia de los Ojos (Real city), para que nos cuente su experiencia en el mundo de la restauración, tras treinta años dedicados a este maravilloso sector.
Javier comenzó muy jovencito en el mundo de la restauración, su primera experiencia, que hoy recuerda con gran orgullo, fue en un establecimiento hostelero de su municipio, El Casino de Malagón. Con el paso del tiempo y un poco más de experiencia, Donaire se marchó de su localidad para continuar dedicándose a la hostelería, un sector que tal y como él mismo describe "le apasiona". Tras trabajar en diferentes restaurantes de nuestro país, Javier decidió regresar a su municipio, fue en ese momento cuando le surgió la oportunidad de ser el chef del que es hoy, 15 años después de su llegada, el Abrasador Restaurante El Mirador de la Mancha, del que Javier además es gerente y encargado.
Javier, hablemos de tu restaurante. ¿Cuándo se creó y qué características tiene?
El Restaurante El Mirador de la Mancha se construyó en marzo de 2003, y dos años después llegué yo. De este restaurante puedo decir con orgullo que es un sitio espectacular. ¿La razón? Nuestro restaurante está situado encima de una sierra en altura y está construido en madera. Likewise, nuestra cocina se caracteriza por ser tradicional, con platos típicos manchegos, asados y por supuesto algo que no puede faltar, ¡la parrilla!
Además del establecimiento hostelero, también contamos con un complejo dedicado al turismo rural; cabañas construidas encima de olivos para aquellos que deseen pasar unos días de desconexión. Y por otro lado, nos dedicamos al mundo de los eventos. ¡Un poco de todo! (Laughs).
Your restaurant has become a success story of the Scorching Group, What can you tell me about it?
Abrasador El Mirador de la Mancha yo diría que es un sitio muy pintoresco, un lugar donde los clientes además de disfrutar de un entorno muy agradable, también lo hacen de una gastronomía de gran calidad.
Why is it important to have a good quality policy in the catering sector?
Contar con una buena política de calidad es imprescindible para un establecimiento hostelero. Si no hay una buena política de calidad, no hay recorrido y el fracaso está asegurado.
Esta fue una de las razones por las que decidimos apostar por Abrasador. Conocimos al Grupo hace 4 años y comprobamos que su política de trabajo nos gustaba mucho: misma calidad en el producto siempre, gran inquietud por mejorar día a día, apuesta por la formación continua… en definitiva, era lo que nosotros estábamos buscando. Tras probar con ellos, nos hicimos Abrasador, and since 3 años trabajamos mano a mano.
¿Qué os diferencia del resto de restaurante de vuestra zona?
La diferencia es la singularidad del sitio, no es un establecimiento fácil de encontrar, hay pocos sitios tan peculiares como el nuestro y esto nos diferencia del resto. Of course, sin olvidarnos del equipo que formamos parte de esta gran familia y que luchamos día a día para que todo salga bien.
Do you have any upcoming goals?
Lo nuestro es un desarrollo continuo, cada año hacemos alguna obra para ampliar o mejorar las instalaciones. En la actualidad estamos inmersos en la obra de una nueva zona para el acceso al lugar donde celebramos los eventos. Apart of this, yo diría que nuestro objetivo principal es que la gente que pase por el establecimiento se vaya contenta y quiera volver.
Now let's talk about your relationship with the Burning Group
How many years have you been associated with scorching brand?
Llevamos 3 años y medio asociados y nuestra experiencia está siendo muy buena, estamos muy satisfechos, ya no solo por la calidad del producto como he dicho anteriormente, sino también por su variedad, por la formación continua y por la comunicación con nosotros. ¡Desde Abrasador hacen las cosas muy bien!
What do you think are the keys to success of your restaurant?
La constancia y el mantener una línea de calidad firme, y un espacio muy singular; eso es lo que hace que llenemos cada fin de semana.
Have you had a sales increase in recent years?
Yes, nosotros a nivel de restaurante hemos notado un incremento en cuanto al número de ventas de entorno al 10% every year, tanto en fin de semana como en día de diario.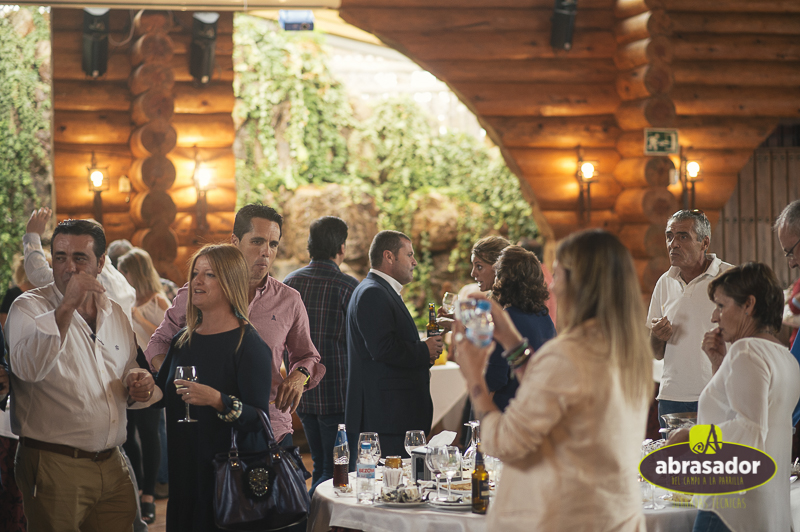 What values ​​you highlight this Restaurant Group?
Su humanidad, su familiaridad, la formación continua, el afán de mejora, Y, definitely, la forma de ser que tienen que, for example, a nosotros es un valor que nos importa muchísimo, porque si tú tienes un buen producto pero no eres una persona llana, cercana, que tengas en cuenta lo que un cliente te pueda decir, no sirve de nada.
What you are positioned as in your city?
En Google tenemos una nota media de 4.3 on 5 y en TripAdvisor una puntuación de 4 on 5.
¿It is important for a restaurant your online reputation and digitization? Why?
Cada día más porque las personas que no son de la zona, that is to say, que están de paso, se guían mucho por estas herramientas digitales, que hoy te dan la posibilidad de conocer las puntaciones y leer los comentarios y las respuestas del establecimiento, un poco de todo. Thus, es muy importante tanto la digitalización como la reputación online.
Y ya para finalizar ¿crees que en el mundo de la restauración hace falta un poco más de formación del sector? Why?
La formación siempre es importante. Si bien es cierto que yo creo que en los últimos años tanto empresarios como trabajadores invierten más en formación que antes; no hay duda de que todavía hay muchas personas reacias a gastarse dinero en hacer cursos o asistir a congresos, pero yo creo que cada vez son más conscientes de que si no hay formación continua, te quedas atrás.
Primer Premio Nacional de Recetas Abrasador

2019
Aquí tienes otro video de Televerás donde comparten la noticia del Primer Premio de Javier Donaire en el Concurso Nacional de Recetas Abrasador 2019
https://

abrasador.com/wp-content/uploads/2020/05/Vista-panoramica-El-Mirador-de-la-Mancha.jpg
330
800
Burning
https://abrasador.com/wp-content/uploads/2017/12/logoENFOLD_V2-300x100.jpg
Burning
2020-05-05 09:53:01
2020-05-05 12:54:30
Javier Donaire, Chef of the restaurant El Mirador de la Mancha