"If there is not a good quality policy, there is no route and failure is assured "

Javier Donaire, Scorching El Mirador de la Mancha
We speak with Javier Donaire, chef of the Scorching Restaurant El Mirador de la Mancha, located in Villarubia de los Ojos (Real city), to tell us about your experience in the world of restoration, after thirty years dedicated to this wonderful sector.
Javier started very young in the world of restoration, your first experience, that today remembers with great pride, It was in a hotel establishment in his municipality, The Casino of Malagón. With the passage of time and a little more experience, Donaire left his town to continue dedicating himself to the hospitality industry, a sector that, as he describes himself, "is passionate about". After working in different restaurants in our country, Javier decided to return to his municipality, It was at that moment when the opportunity arose to be the chef of the one he is today, 15 years after his arrival, the Scorching Restaurant El Mirador de la Mancha, of which Javier is also the manager and manager.
Javier, let's talk about your restaurant. When was it created and what characteristics does it have?
El Mirador de la Mancha Restaurant was built in March 2003, and two years later I arrived. I can proudly say about this restaurant that it is a spectacular place. The reason? Our restaurant is located on top of a high mountain range and is built in wood. Likewise, our cuisine is characterized by being traditional, with typical Manchego dishes, roasts and of course something that can not be missing, Grill!
In addition to the hotel establishment, we also have a complex dedicated to rural tourism; cabins built on top of olive trees for those who want to spend a few days unwinding. And on the other hand, we are dedicated to the world of events. A bit of everything! (Laughs).
Your restaurant has become a success story of the Scorching Group, What can you tell me about it?
Scorching El Mirador de la Mancha I would say it is a very picturesque place, a place where customers in addition to enjoying a very pleasant environment, they also do a high quality gastronomy.
Why is it important to have a good quality policy in the catering sector?
Having a good quality policy is essential for a hotel establishment. If there is no good quality policy, there is no route and failure is assured.
This was one of the reasons we decided to go for Scorching. We met the Group ago 4 years and we found that we liked their work policy a lot: same quality in the product always, great concern to improve day by day, commitment to continuous training ... in short, it was what we were looking for. After trying them, we became scorching, and since 3 years we worked hand in hand.
What sets you apart from the rest of the restaurant in your area?
The difference is the uniqueness of the site, not an easy establishment to find, there are few places as peculiar as ours and this differentiates us from the rest. Of course, without forgetting the team that we are part of this great family and that we fight every day so that everything goes well.
Do you have any upcoming goals?
Ours is a continuous development, every year we do some work to expand or improve the facilities. At present we are immersed in the work of a new area for access to the place where we hold the events. Apart of this, I would say that our main objective is that the people who pass by the establishment leave happy and want to return.
Now let's talk about your relationship with the Burning Group
How many years have you been associated with scorching brand?
We carry 3 years and a half associated and our experience is being very good, we are very satisfied, not only for the quality of the product as I have said before, but also for its variety, for continuous training and communication with us. From Scorching they do things very well!
What do you think are the keys to success of your restaurant?
Consistency and maintaining a firm quality line, and a very unique space; that's what makes us fill up every weekend.
Have you had a sales increase in recent years?
Yes, At the restaurant level, we have noticed an increase in the number of sales around the 10% every year, both on the weekend and on a daily basis.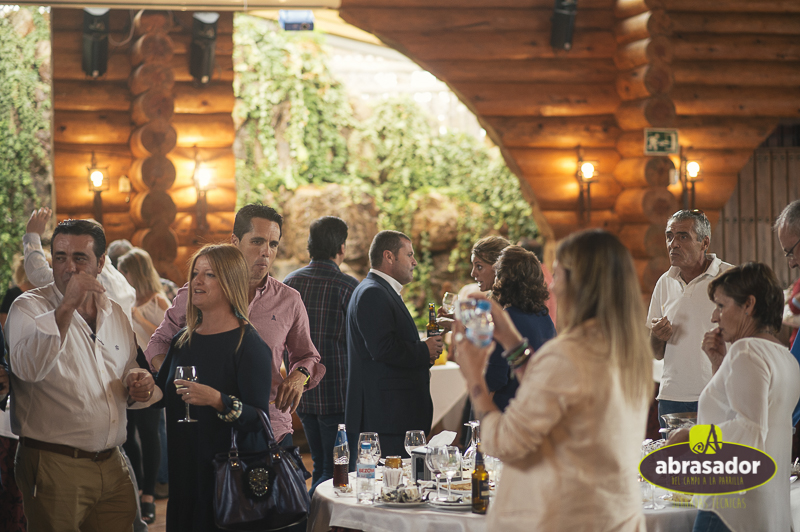 What values ​​you highlight this Restaurant Group?
His humanity, your familiarity, continuous training, the desire for improvement, Y, definitely, the way of being they have to, for example, it is a value that matters a lot to us, because if you have a good product but you are not a plain person, close, that you take into account what a client can tell you, it's no use.
What you are positioned as in your city?
In Google we have an average score of 4.3 on 5 and on TripAdvisor a score of 4 on 5.
¿It is important for a restaurant your online reputation and digitization? Why?
Every day more because people who are not from the area, that is to say, who are passing through, they are guided a lot by these digital tools, that today give you the possibility to know the scores and read the comments and responses of the establishment, a bit of everything. Thus, both digitization and online reputation are very important.
And finally, do you think that in the world of catering, a little more training is needed in the sector?? Why?
Training is always important. Although it is true that I believe that in recent years both employers and workers invest more in training than before; there is no doubt that there are still many people reluctant to spend money on taking courses or attending conferences, but I think that they are increasingly aware that if there is no continuous training, fall behind.
First National Award for Scorching Recipes 2019
Here is another video from Televerás where they share the news of Javier Donaire's First Prize in the Scorching National Recipe Contest 2019
https://abrasador.com/wp-content/uploads/2020/05/Vista-panoramica-El-Mirador-de-la-Mancha.jpg
330
800
Burning
https://abrasador.com/wp-content/uploads/2017/12/logoENFOLD_V2-300x100.jpg
Burning
2020-05-05 09:53:01
2020-11-11 17:41:21
Javier Donaire, Chef of the restaurant El Mirador de la Mancha