To over 1000 meters, on the northwest slope of the Sierra Nevada Natural Park, which it is part, and the unique mountain town of Güéjar Sierra sits with spectacular Embalse de Canales at his feet. Honda Muslim and converted inheritance in one of the leading natural tourism and active country.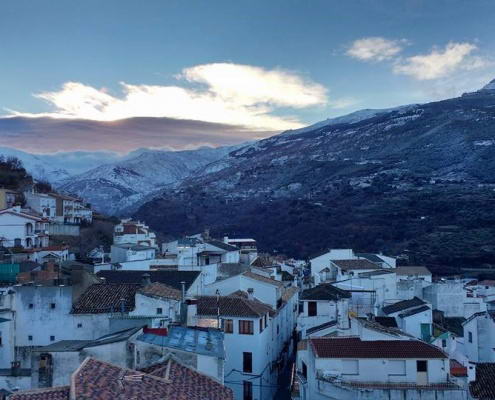 High tops, streams and springs, archaeological sites and monuments hand with paths full of history and traditions are given a character.
Houses summits Veleta and the Mulhacén.
Also noteworthy is that in Güéjar Sierra are born Genil rivers, Guarnón Y Real, among others.
From this village so charmingly we can start to make various hiking trails each more impressive, from Guejar- Sierra following the indication of the "Vereda de la Estrella". The route begins next to the Barranco de San Juan, where one of the stations of the old tram was. The path climbs gently between oaks, chestnuts and maples. A little later we will see, on a low wall at the roadside, a chestnut centennial known as "Grandpa":
When we take about an hour and a half route, inexperadamente the road turns south and offers magnificent views of the "Rope tresmiles", highest peaks of Sierra Nevada:
On the left is the peak Alcazaba (3364m) and right Mulhacen, what with 3478 m. It is the highest of the peninsula.
The path continues gentle climb to the Cortijo de la Probadora, remains of an old mining. From here the road on a steep slope curling another fifteen minutes to reach the old town of the Star Mine. A little later, We cross the bridge over the river Guarnón:
The road follows the valley of the Real stream, passing near the mine Justice, and continuing another long way to the confluence of four gorges.
If we desired, We can complete the route with a visit to the nearby "Secret cave", which it is an artificial shelter under a large rock
This beautiful route, It leads from the village of Guejar Sierra, until "secret cave", in a beautiful way where we see the abundant native vegetation of the area, as well as huge maples,robles, chestnut trees and stunning views of the north faces of the Mulhacén, Alcazaba and Veleta.
In this village we can also enjoy its festivities in honor of San Roque in mid-August. And in the winter holiday is celebrated Asadura Matancera, with tasting asadura style and cooked to güejareño must Güéjar Sierra, which is celebrated the first day of February.
And in this place I hope in Scorching Las Lomas,
Ctra. Güéjar Sierra, km 6, 18160, Güéjar Sierra (Granada)
You can book by calling 652 33 24 10 or reservas@abrasador.com
https://abrasador.com/wp-content/uploads/Gueejar-Sierra.jpg
640
1024
Burning
https://abrasador.com/wp-content/uploads/2017/12/logoENFOLD_V2-300x100.jpg
Burning
2017-01-11 13:31:14
2018-07-09 15:52:43
Güejar-Sierra: Nature and gastronomy