Almagro Theater, History and Gastronomy
International Classical Theater Festival of Almagro held in this historic city for manchega 40 years, has become over time a must for theater lovers, because it is a unique cultural experience in the world.
The discovery in 1954 of the Corral de Comedias was the starting point of our Festival. Almagro and completed its impressive architectural heritage with an emblematic building of the Baroque, in which theatrical performances took place in the sixteenth and seventeenth centuries and is, day by day, the best preserved of all the Spanish Golden Age. Where works of famous plotted Lope de Vega, Tirso de Molina and German Mateo, among many others.
They already know, in the month of July which is when the festival is held make a hole in its agenda to enjoy the theater and so welcoming this town of La Mancha. Every year meet in July near 60.000 manchega people in this historic city of Almagro, to attend the many shows, events and activities scheduled.
I do not want to leave without highlighting its beautiful Almagro Main Square always with a cheerful atmosphere and its arcades full of local shops where you can buy something so typical and artisanal how a lace tablecloths made roll, wicker chairs and the famous Almagro eggplant.
Most uniqueness of this place focuses on its major sides, where a harmonious set of homes that are placed on stands soportales in two heights, supported by eighty-five stone columns Tuscan order, They are resting on thick shoes and wooden beams painted almagre. These materials have modest buildings his greatest originality in the double floor conservatory, It is a singular case of Spanish architecture.
These galleries were initially open, They were public and were used to watch the shows that took place in the square. Later, They were closed. Balconcillos their windows, like the bars lathed, They must be painted almagre, but later, on the occasion of the proclamation of King Carlos IV in 1788, They were painted blue. On the galleries, simple corbels supporting the eaves, and rooftop, covered with whitewashed Moorish tiles dormers rise, white chimneys and some iron weathervanes.
And in this historic capital city of Campo de Calatrava See you in:
scorching Almagro to delight you with its delicious dishes and recipes, and of course with an exquisite meat grilled beef and Iberian.
C / San Agustin, 18, 13270, Almagro (Real city). To reserve Click here or call: 652 33 24 10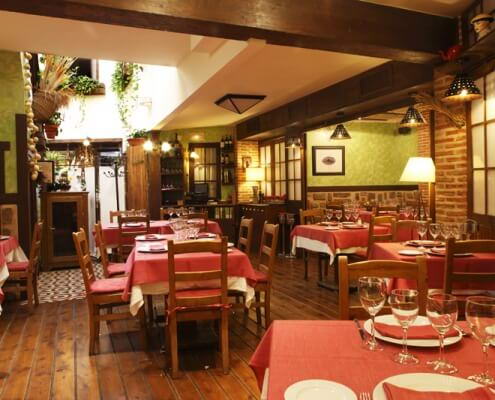 Sources: festivaldealmagro.com, almagromonumental.com
https://abrasador.com/wp-content/uploads/corral-comedias.jpg
460
600
Ivan Sanchez
https://abrasador.com/wp-content/uploads/2017/12/logoENFOLD_V2-300x100.jpg
Ivan Sanchez
2016-06-07 09:11:40
2018-07-09 16:08:59
Almagro Theater, History and Gastronomy