The group Abras
Ador has again joined forces with a family of restaurateurs who embody perfectly the brand values. José Pascual and Paqui Gomez, the owners of the Hotel Rural Sierra de Segura, Puente de Génave (Jaén), spent many years in the industry and have now wanted his restaurant is part of Abrasador.
They wanted to offer the best grilled meats in the area and did not hesitate to join the family Ramirez. Definitely, They are an example for the passion and commitment that have made them take the business who set Joseph's parents (Antonio and Esperanza). Now, after difficult times, Paqui after overcoming a serious illness, they have bet all his enthusiasm for this new stage in the hotel restaurant.
It is a clear example of "Yes you can" and thanks to the support of their children who work with them at the hotel have forged this union with Abrasador to continue improving, siendo un referente emprendedor y de la hostelería de la comarca del Segura.
His daughter Mary is studying the top grade kitchen, Gloria daughter is studying Tourism, his son Jose Antonio 17 years is a real barman, while still she is studying her bachelor and small Jimena de 5 años que será la futura relaciones públicas del Hotel. Ellos son la segunda generación que trabajan junto a sus padres para mantener el proyecto de sus abuelos vivo: Posada San Jose.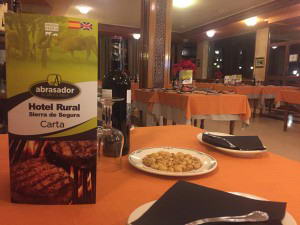 Nature, comfort and self-produced products
Hotel Rural Sierra de Segura features 33 bedrooms, It is located in Puente Génave, in the margin of the river Guadalimar (Cave San Blas), next to the north entrance of the Natural Park of Cazorla, Segura and Las Villas, border with Sierra Morena and 1 When road is Ubeda, Baeza, Ruidera, Alcaraz, Birth of the World River, Birth Rio Segura, and the Birth of the Rio Guadalquivir. A 10 Guadalmena minutes reservoir, where you can fish, already 30 Tranco reservoir minutes. An attraction to enjoy a few days rest in a privileged area. Very nearby is the Convento de Santa Teresa in Beas de Segura, Castle of Segura de la Sierra, etc.
A gastronomic level, Besides offering meats Scorching now Group, have their own production of organic oil and segureños also raise lambs on their plates also serve as a local specialty.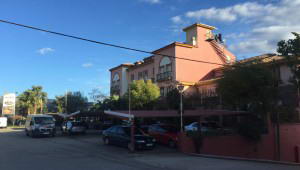 absolute success at the opening
This weekend celebrating their union with Abrasador with an opening. More of 130 relatives and friends attended to test new dishes, ham and grilled meats from now that will delight guests and customers of this family who loves the hotel and restaurant.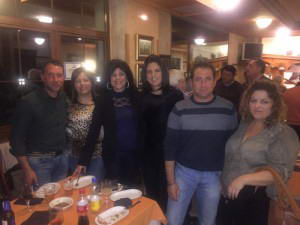 In this link you can see the video that was shown at the opening of the restaurant.
https://

abrasador.com/wp-content/uploads/FOTOEQUIPO2.jpg
2448
3264
Burning
https://abrasador.com/wp-content/uploads/2017/12/logoENFOLD_V2-300x100.jpg
Burning
2015-12-02 11:35:04
2015-12-02 18:09:49
Scorching Hotel Rural Sierra de Segura, new openness and union of entrepreneurs